Today's corporate world is busy with measures of maximizing profit and facing hostile competition but failing to add spiritual values, it encounters numerous problems. Stress, improper time management, inability to address conflict and so on brings complications that ultimately result in unhappiness, sickness, and even death. By unlocking the hidden potential which every individual has everything can be put into use in a positive and healthy way. Yes, this can be done by introducing spiritual technology in education, management and work culture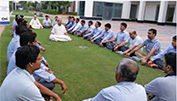 ISKCON has instituted V-Serve with a vision to provide guidance to integrate ancient spiritual wisdom and modern material knowledge in ways that allow everyone to fulfill the purpose of human life.
V-serve is a group of serious practitioners of best practices in management, corporate professionalism, entrepreneurship and spirituality. It offers a wide array of courses in the areas of stress management, anger management, conflict resolution, art of delegation, embracing change, mind awareness etc.,to suit the training needs of the corporate sector.
Through different training modules they try to equip the trainees with the capabilities to unlock the hidden potential within to bring about a total transformation- a spiritual paradigm, thus changing the quality of personal – professional – family and social life.
V-serve embeds ethics and spiritual values into the workplace with Life Style Management Techniques which brings a Transformation in Consciousness. And that means increased productivity, profitability, employee retention, interpersonal relationships, team bonding, customer loyalty, role clarity, employee engagement and thus brand reputation.
A brief about the Training Modules
RECONNECT
V-Serve conducts a refresher course where a snapshot of the modules is delivered to each specific batch.
It includes a recap, an action plan for HR and sharing of "new learnings". The Vedic paradigm is of continuous learning.
Personal Management
Stress: Pschological definition, Social and economic costs, Symptoms, Causes- the CAUSE model, Lifestyle Management for Work life Balance, Overcoming Stress- the CURE NOW model, Stress Management : the Spiritual Paradigm, Meditation, Plugging into Higher Planes.
Anger: Behavioral definition, Cause of Anger- from the scriptures, Styles of Anger Management, Handling anger towards colleagues, Handling Angry colleagues, Solutions- Physical, Mental, Spiritual, Anger Management- the Vedic Vision, Anger Management- The Ideal Vedic Model.
Relationship Management
Conflict Resolution: Definition and Types of Conflict, Levels of conflict, Personality Styles- Assertive, Aggressive and Passive, Personality Styles in the light of Modes of Material Nature from Bhagavad Gita, Sanitizing sentences, Reflective Listening, NICE Model of Communication, True Ego vs False Ego, Glorifying Colleagues.
The Art of Delegation: Why and Why not? IDEALS Model of Delegation, Delegation- of what and to whom? Supporting and monitoring others, Delegating to the qualified person, Working with the reluctant delegate, Delegation based on strength

INNER-SELF MANAGEMENT
Embracing Change: Concepts of change, Stages of inevitable change, Learning to embrace change, The Cranky Quiz- how resistant are you to change? Spiritual attitude to change, Gita and the psychology of change & giving benefit of the doubt.
Map: Mental Awareness Program: What is the Mind? Human vs Wild Mind, States of Mind- as per the science of Yoga, Mind vs Intelligence, Are we the Mind? How the Mind degrades us, The Art of Mind Control, Meditation for Mind Control, Mantra for Peace of Mind, Developing Maturity by developing a Mature Mind.
More Servings
Team Work, Effective Communication, Wellness, Morality, Ethical Leadership, Work Life Balance.


These will be 3 hour sessions and will also involve extensive personal interaction with the Trainer. The training methodology includes Videos, Group discussions, case studies, role plays, assignments and action planning for follow ups and will be for a batch size of 20.
Benefits of Training with
V-Serve
Flexibilty
Training tailored to meet the needs with flexible scheduling options.
Training delivered at the location of the organization.
Affordability
TCustomized Training modules Competitively priced to suit the budget of the company.
Experience
Experienced training consultants will work with the organization to determine a training program that is just right for the company.
The training team is experienced in business and industry issues and approach the training program holistically.
Impact
Positive impact on the business by creating a positive impact on the employees
Equip employees to work under pressure with greater calmness and clarity of mind
V-Serve is located at Hare Krishna Hill, Sant Nagar Main Road, East of Kailash, New Delhi -110065, India.

For more details write to
info@v-serve.biz.